Inflatable kayaks you say? What could possibly be the advantage of those? Well let me tell you. iKayaks are the next wave in paddle sports. Featuring lighter weight designs, accessory friendly,  and durable designs, these are the last kayaks you need in your life. We sell three different models at Sun Sports+. We'll call them the good, the better, and the best. Let's get into it.
The Chinook 90 is Aquaglide's shortest open cockpit kayak that provides exceptional maneuverability for calm rivers and shorter trips on flat water. With its compact 9-foot open bow layout, the Chinook allows for easy transitions in and out of the boat. If you are looking for a lightweight recreational boat that's easy to set-up and provides easy transitions in and out of the water, the Chinook 90 is for you.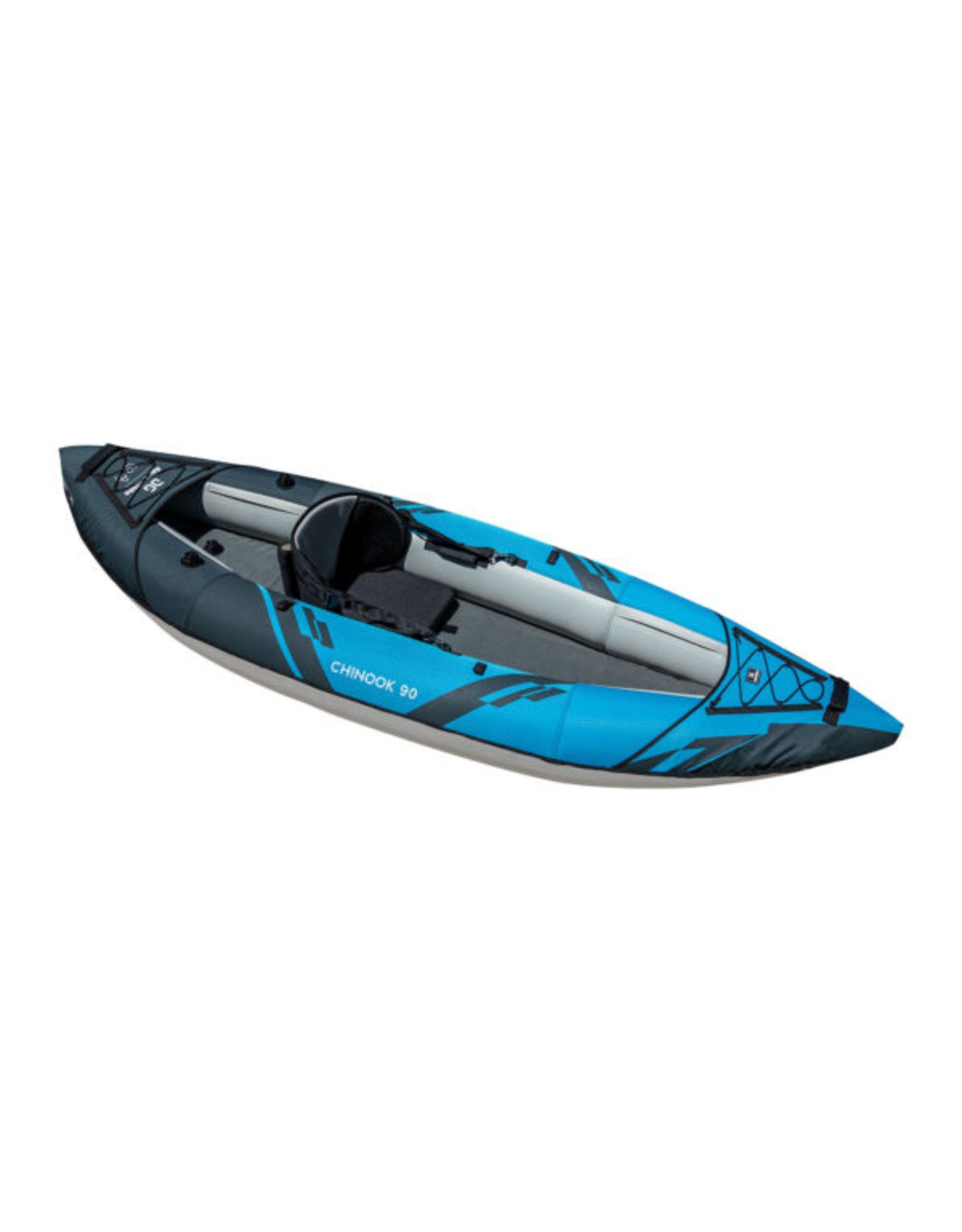 How does it feel to paddle:
Overall, I was pleasantly surprised by this kayak. It has a narrow channel for the paddler to sit in, which was very comfortable for me. I'm 5'5 relatively small build. It was very comfortable to sit in. The Chinook 90 might not feel super comfortable for larger adults. But it tracked straight and handled well in a little wind. All in all, the Chinook is a great series of iKayaks.
Features:
Best For: recreational 1-person flat-water paddling.
Capacity: 1-person | 250 lb. (113 kg) max weight.
Warranty: 1-year limited against any manufacturing defects.
Dimensions: 9' (274 cm) L x 35" (89 cm) W x 12.5" (32 cm) H.
Includes: kayak, seat, quick-release fin, storage bag, and repair kit.
Not Included: footrest, pump, paddle, and PFD (Personal Flotation Device).
 Requires Boston and Small Boston (Stem) Valve adaptors to inflate properly.
Named after the famous Deschutes river in Bend, Oregon, the Deschutes Series of ikayaks fly through flat water with a straight rocker and are as rugged and diverse as the river it's named after.
Built with cutting edge technology and EVA floor, the lightweight Deschutes allows for more compact packing. Duratex construction, paired with inflatable thwart and EVA floor creates rigidity and lightweight efficient performance.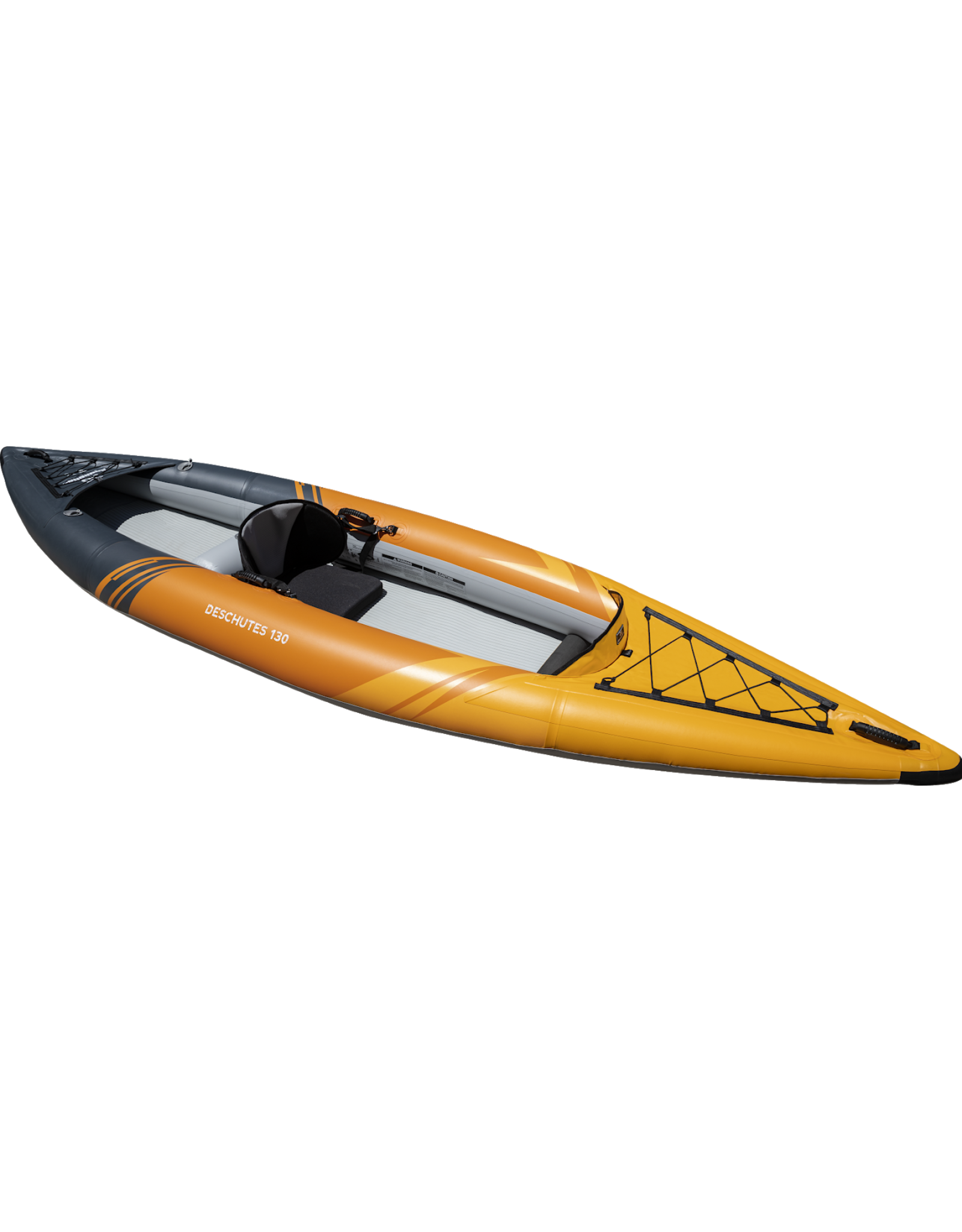 How does it feel to paddle:
The floor of the kayak is my favorite part. It's sturdy and rigid. The seat was a little more comfortable than the Chinook. But the Kayak is super wide. I felt pretty small within it. Again, I'm only 5'5. So the kayak felt wide for me. But it was super comfortable. It seemed a little lighter in weight than the Chinook and the wind seemed to blow it around slightly more. But if you were paddling in calm waters, you'd enjoy the Deschutes more so.
The Key user features in the Deschutes 130 kayak are:
Quick release fin
Core 2 seat
Drain plugs
Molded handles
Halkey-Roberts type valve
400lb capacity
21lbs
The Chelan Series
The Chelan 120 is a premium choice for all types of paddling. The unique combination of rugged Duratex™ tube construction with a drop-stitch, hard-bottom floor results in a rigid and responsive open cockpit inflatable kayak. Regardless of skill level, the Chelan 120 is capable of traditional hard-shell kayak performance for years of worry-free effortless paddling. The Chelan comes in a tandem too if you want to paddle with a friend!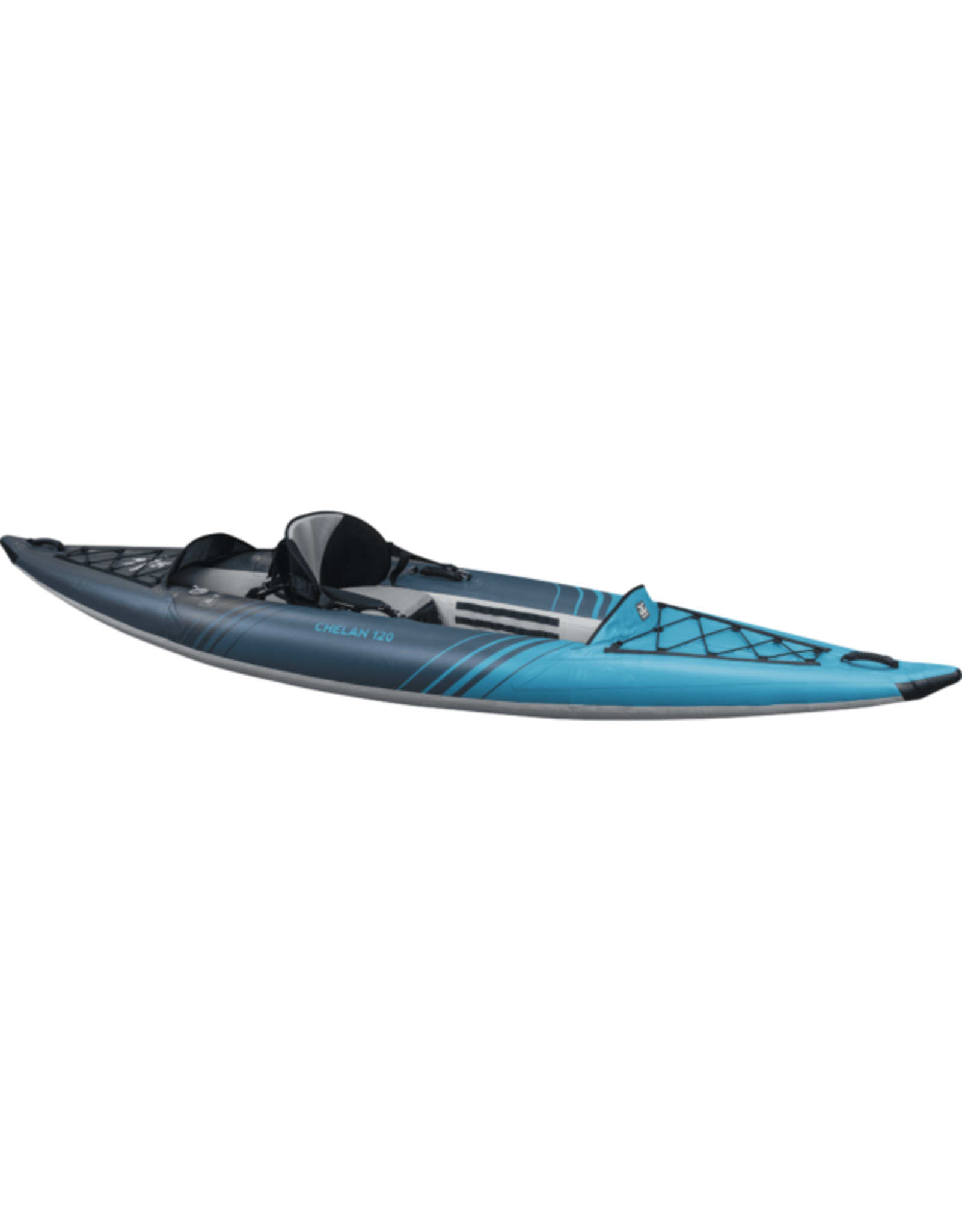 What does it feel to paddle:
The Chelan felt just like a hardshell kayak. The inflatable seat is the highlight of this kayak. You can let air out of the kayak to sit lower in the boat. You can inflate the seat more to sit up higher. The rigid floor is sturdy enough that you could stand upright in the boat in the middle of the lake without flipping over.
Features:
Best For: 1-person performance touring.
Capacity: 1-person | 300 lb. (136 kg) max weight.
Warranty: 2-year limited against any manufacturing defects.
Dimensions: 11'-3" (344 cm) L x 32.5" (82.6 cm) W x 11.5" (29.2 cm) H.
Weight: 28 lb. (12.9 kg).
Scotty Mount Screw Specs: Not Applicable
Includes: kayak, seat, fin, storage bag, Halkey-Roberts Valve adaptor, and repair kit.
 Not Included: pump, paddle, and PFD (Personal Flotation Device).
What does it feel like to actually paddle an iKayak?
The Chinook is a very comfortable ride. It is incredibly buoyant and floats like a small boat. But it paddles and turns quickly. The Deschutes will get you a harder floor and a more comfortable seat. The Deschutes is just as durable, but feels wider when you're sitting in it. This would be a great choice for larger adult riders, or someone looking to adventure with more equipment. The Chelan is the biggest step up. It is a drop stitched inflatable floor which feels super sturdy. The seat is inflatable as well so you can adjust how high or low you sit in your iKayak.
These iKayaks track straight in the water. I preferred to paddle in calmer water as the wind seemed to push them around in a storm and cause you to drift off course. The best part about these kayaks is how easy they are to get into. You can literally sit on the side wall of the kayak and swing over into it. They are that sturdy! Even the tandems surprised me – they were comfortable, sturdy, and all in all a great ride.
We carry all three types of iKayaks as well as different sizes of each version. We keep them inflated on the showroom floor so you can see what the models look like, sit down inside them, and pick them up. Once you feel how lightweight they are, you'll never go back to a hardshell kayak again.