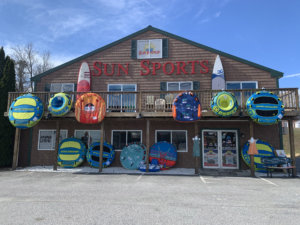 We had a great opening weekend!
We are kicking off summer the right way here at Sun Sports+ with bright sunshine, long hours, and new products! The Wake Wizard is in the house and we are rocking and rolling. Bring on summer!
We are so excited to announce that Sun Sports+ has a new Private label clothing line – with more on its way! We now have a line of board shorts, hybrid shorts, and walk shorts with our very own logo on them. Rock your favorite surf shop without sacrificing quality or style.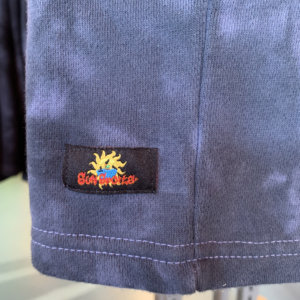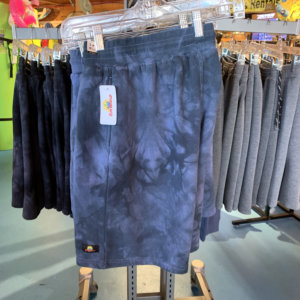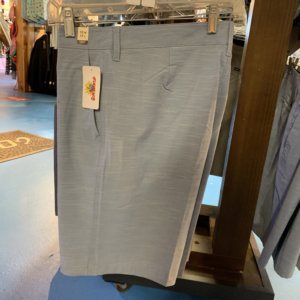 Ronix Vault Wakeboard
Back again for 2021 is one of the more solid wake board packages we sell at Sun Sports+. Check out the Ronix Vault and Divide Package. This set up is great for every rider but designed to help new riders experiment with their toe side tricks and get them figured out faster. The Vault features a 3 stage rocker that will provide for extra pop off the wake. It also features an asymmetrical design, something that's unique in the wakeboard world. The Vault truly does not have a designated tip or tail, allowing the board to truly adapt to each individual rider. On the toe side edge, Ronix incorporated a "step down rail" and a molded in fin set closer to the edge of the board. These features allow riders to accomplish their tricks with ease.
Ronix Divide Boot
The Divide boot is arguably the most comfortable boot in the store. This boot is super easy to get your foot in and out of, but it will support your ankles throughout your ride. This whole set up comes WTWA: Wizard Tested. Wizard Approved. The combined set up of a Vault with a Divide boot is just what you need to bring on summer!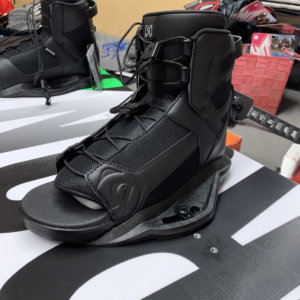 If we could offer you any advice, we would tell you to get ahead of the summer madness and get stocked up now while product is available! We have new orders arriving almost every day but supplies won't last! Call us with any questions at (207) 693-3867. We are standing by, ready to answer any and all questions or concerns that you have. Feel free to email us at info@sunsportsmaine.com. Or stop by the store and see first hand what we have in stock! Our hours are as follows:
Monday – Saturday: 9am-6pm.
Sunday – 11am – 6pm.
Bring on Summer!