Don't let the magic pass you by! We've got exactly what you need at Sun Sports+ to make this summer MAGICAL. This product is not a new addition to the Sun Sports+ arsenal, but instead something that's incredibly popular among lake goers. Also known as "lilipads", these products are a simple yet easy way to beat the summer heat. Have you ever seen a water carpet? If you haven't, keep reading, because you're in for a treat! Back again this summer are the popular O'Brien Water Carpets and Connelly Party Cove's.
Why all the Hype?
Carpets are a great replacement for a floating dock or a large floating island. They function because of their volume. Their sheer size and dimensions cause them to displace weight and keep you afloat on the surface of the water. Plus, they never requires inflating! They come equipped with either a grommet or anchor points so that you can anchor them in your lake. Or tote them on a party boat and roll them out for fun in the sun at the sandbar. Whatever your fancy, kick back and relax this weekend! Go float the lake and spend the day lounging in the sun. The Connelly Party Cove Island features 4 anchor points for strategic mooring, UV protection, 2 heavy duty webbing straps, and a nylon net bag for easy stowing. Being bright yellow ensures you are clearly visible out on the water. Your entire family will have a blast lounging on the Connelly Party Cove Island!
Carpets are a great and easy way to have fun in the sun this summer. Instead of the expense of a floating dock or the headache of inflatables, just roll out one of these carpets are get ready for fun! They are built to take a little abuse during games of "king-of-the-dock". If someone falls (or is pushed off), the carpets are super easy to get back onto. They sit right at the surface of the water which allows for easy access. Seriously we can't say enough good things about these water sports toys. You just have to see the hype for yourself. Don't let the magic pass you by this summer! Get your water carpet today!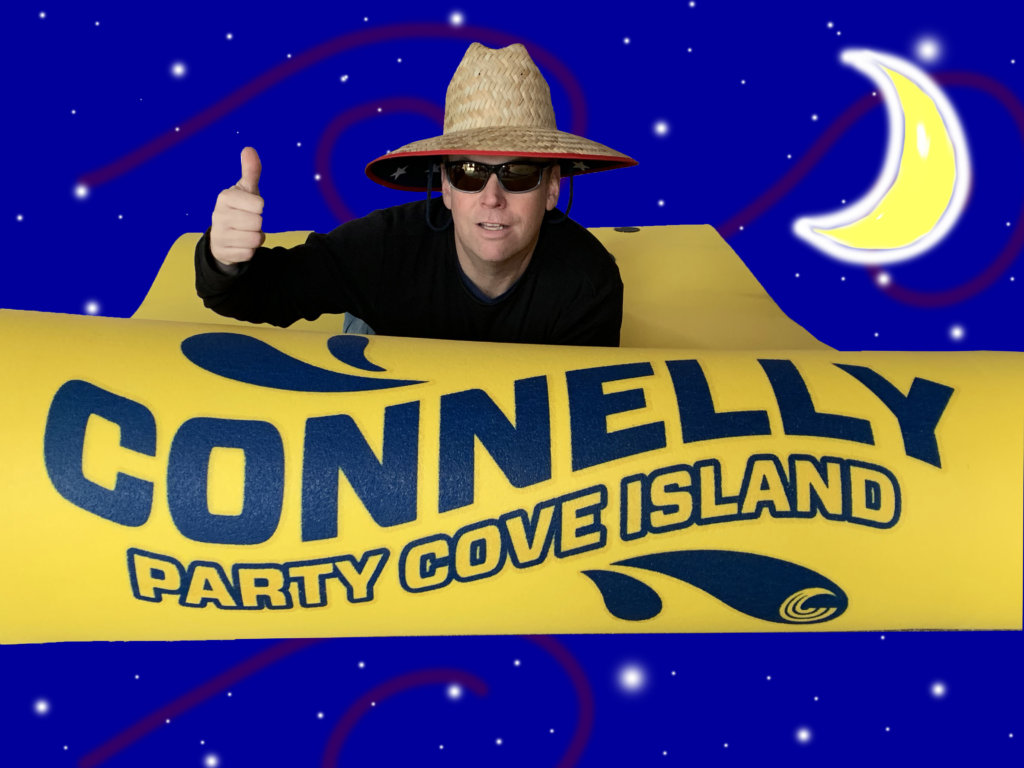 What's the Difference?
There are different sizes and thicknesses to the carpets that we sell at Sun Sports+. By far, the most popular carpet is the O'Brien 4-Layer Water Carpet. Measuring 18'x6′ and 2.25″H (i.e. 4 layers of thick foam). This carpet is great for adults and kids alike and will support a combination of both. This carpet supports a lot of weight without bowing in the middle, so your kids can wrestle to their heart's content!
Looking for something thicker that will support everyone in your household plus more? Check out the Connelly Party Cove Island Deluxe 5-Layer Carpet. Measuring 12'x6′, this carpet is slightly shorter but still incredibly sturdy. It's the thickest carpet that we sell at Sun Sports+. A 5-Layer construction increases the foam's buoyancy and durability. Make your time on the water even more special with the O'Brien Ultra Water Carpet. Whether you're running, jumping or just lounging in the sun, the Water Carpet provides countless hours of fun. With its soft, 5-ply polyethylene construction, this float is insanely comfortable and is more stable than the competition… When you are all worn out from having too much fun, just roll it up and secure the Ultra Water Carpet with the included nylon straps for easy storage.
If you're looking for a carpet that will primarily be used by young kids, consider the 3-Layer Connelly Party Cove. Measuring 18'x6′, this carpet, believe it or not, is super manageable to handle. Being 3-layers, it still has enough thickness and volume to support a group of people. You may sink in the water more while standing on it, but for some people that's part of the fun! Don't let the magic pass you by…
Spring is Coming Soon!!!
Looking for other products that are Wizard Tested, Wizard Approved? Check out our blog! Stay in touch with us by following us on Instagram and liking us on Facebook! Feel free to email us with questions about anything water sports and summer related at info@sunsportsmaine.com. And don't forget to shop online all winter long at shop.sunsportsmaine.com. 
Spring is coming…we will see you so very soon!
-The Sun Sports+ Crew