We are giving summer a little encore. The store will be open Friday, Saturday, and Sunday through Columbus Day! Fridays & Saturdays the shop is open from 11-6 and Sundays from 11-5! We still have crazy deals available in store. 20-40% off nearly everything in store. That's just 3 more weekends left to save big on clothing, apparel and equipment. Shop online in the mean time here.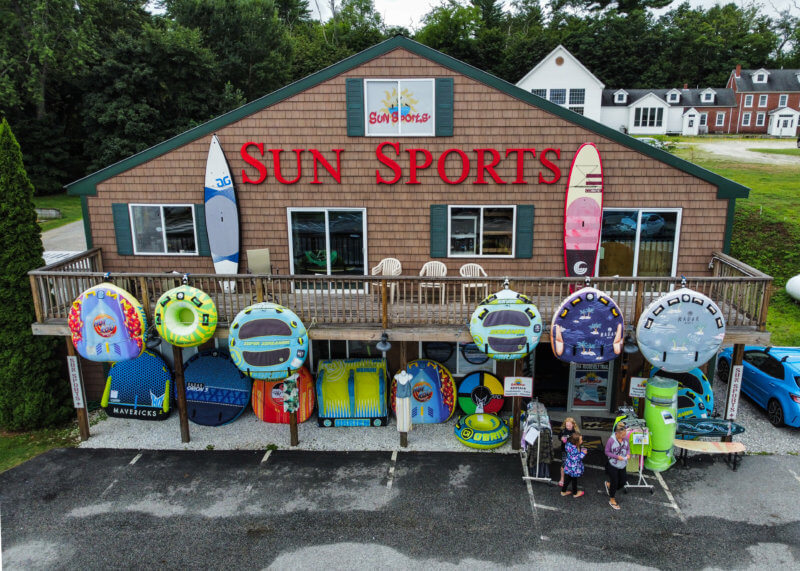 What are some deals going on?
25% off all of this years hottest clothing and apparel styles
30% off your favorite sunnies
25% off the best of water sports equipment
20% off foam core and inflatable paddle boards
What does Sun Sports+ do in the off season?
That's a great question. Once we close the doors and lock them on summer time, we do an inventory count of everything that's left in the store. It's tedious, but we still manage to have some fun. All the clothing gets packed away for next summer and we make room for the new products to arrive in 2023. The Wake Wizard is busy at this point writing orders for new wakeboards, waterskis, surfers, and more. Believe it or not, all those orders get submitted before the calendar year is even close to over. Once all that is complete, we sit back and catch our breath.
We will swap our waterskis for snow skis and hit the slopes during the winter also. And we will get on the snowmobile and cruise around. We make the most out of winter even though summer is really special to us. The shop is still accessible in the off season. It's cold in there for sure, (the building isn't insulated) but believe it or not we still meet people there upon request! We are always accessible. You can call us 365 days out of the year and odds are that someone will answer the phone. If you send us an email, you'll get a reply!
Open Friday, Saturday, and Sunday through Columbus Day!
In the mean time, you can shop online! Follow us on Instagram or like us on Facebook for more water sports content. Check out our YouTube Channel for great content on and off the water! Stop by the shop this weekend and say hello! And if you're not around, then we will see you in the spring.