Phase 5 wakesurfers arrived this morning fresh off the truck. The 2022 line up is pretty sweet graphically and we can't wait for to share it with you all this summer. There are a few boards in particular that we wanted to tell you all about. Since 2003 Phase Five wakesurfers has been building top-performing wakesurfers for all skill levels. No matter what your riding style is, they have a board for everyone. Here are three boards that we want you to know about. 
First up is an ever popular board, the Matrix. Truly a force in the P5 line with many of the top riders sporting it under their feet. It sports a thinner core and a single to double concave bottom with the V-Spline tail. The result is a very responsive, trick friendly platform to work the wave. Many riders will find it rides very well revert with it's well rounded outline that sports the same shape on it's nose and tail. The Matrix has a Carbon Stringer for added strength and is glassed super light using our Gatorskin™glass. It is equipped with a single 1" fin that gives the board a true skim style feel. Don't waste time, Enter the Matrix. The Matrix Payne Pro features a unique Propel Graphic bottom that Parker Payne dreamed up.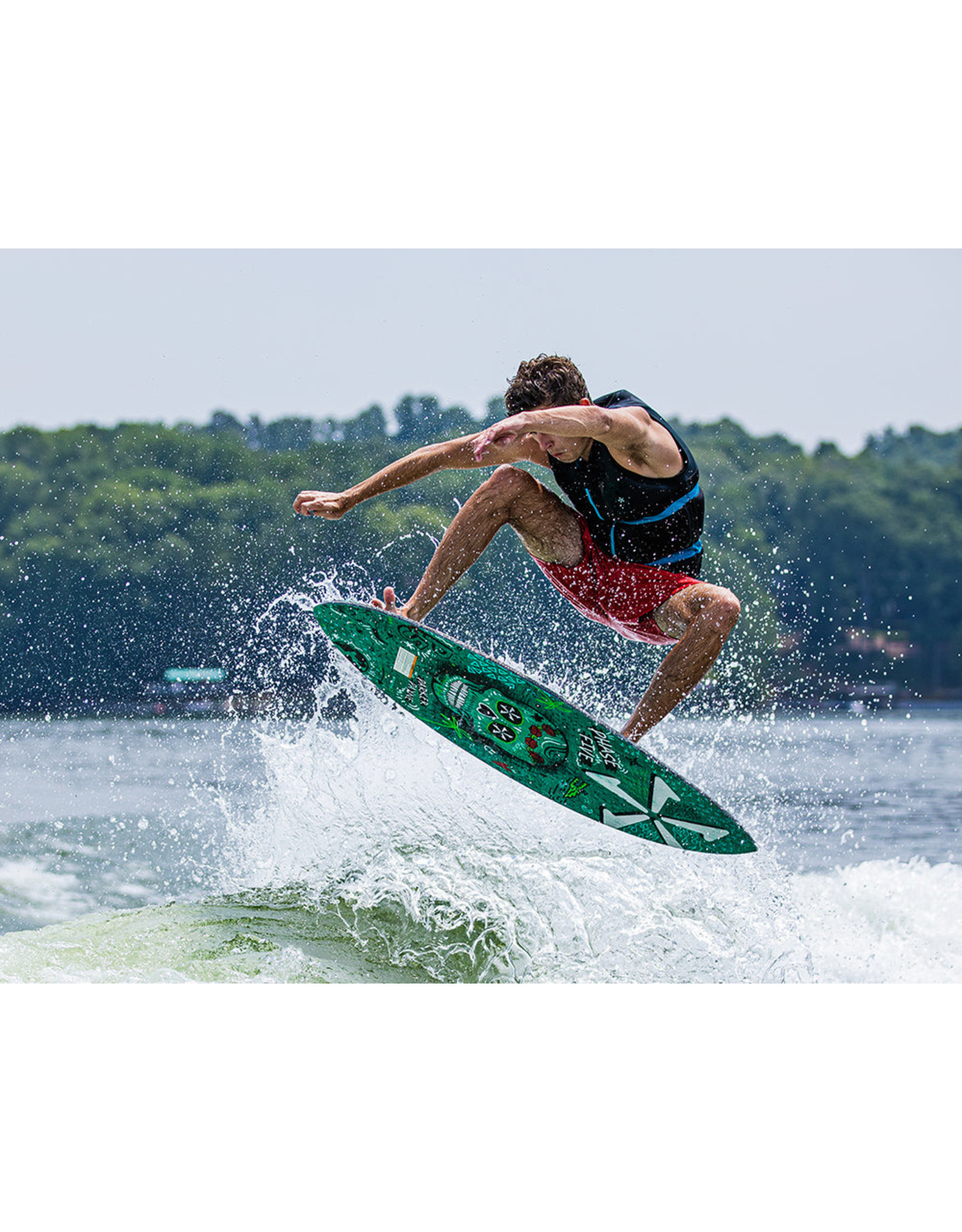 Second up is The Hammerhead. A.k.a. the king of revert. It's "peanut" shape allows the board to swing with more momentum for those push shove-its. Starting with a square nose and ending with a square tail, this board doesn't care which end is in front. The squared nose allows it to stay stable and fast when riding revert. A recent re-design of the Hammerhead sports a peanut shape which is a concept that places the volume under your feet where pressure is actually exerted without rounding out the board so much that is loses speed or maneuverability. It's all around faster this year than before. The Hammerhead is made with Carbon Fiber glass that makes it ultra-strong while maintaining light weight for performance. The Hammerhead is equipped with a single 1" fin to make it fast and maneuverable for all riders.
How does it compare to the Matrix? The Hammerhead is slightly more stable underfoot. It'll also ride more consistently "backwards" (meaning tail facing towards the boat) because of it's unique shape. All in all, both boards are extremely fun and gnarly shredders.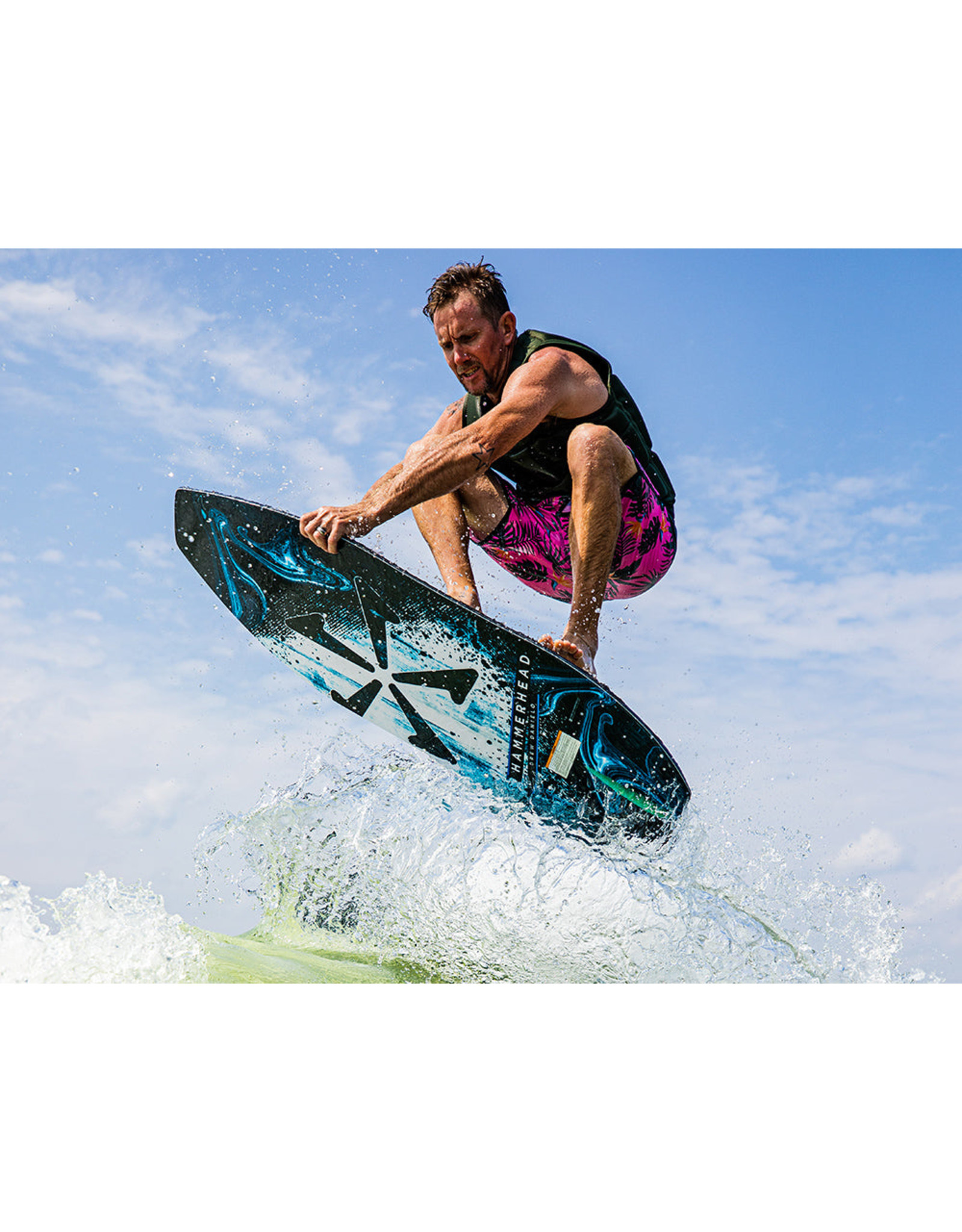 Don't overlook this board: it's a shop favorite! Large enough to accommodate riders up to 200lbs, the Biscuit will become your go to breakfast shredder. It's happy go lucky and forgiving. But this thing will break loose for a spin if you want it to! All in all, this board will keep newbies cruising all around the lake and expert riders looking for more. Featuring a full deck EVA pad, it's comfy underfoot for your toes. The board is super stable but will carve around if you edge it. All in all the Biscuit is good fun, entry level surf board.
The outline of the Biscuit allows the board to be a Wave Hog as you will be struggling to keep this beast off the wave. It also is a very forgiving and friendly board with soft rails that won't catch you when you fall. It comes with a twin FCS fin set up to keep it nice and loose when your ready to get radical on it!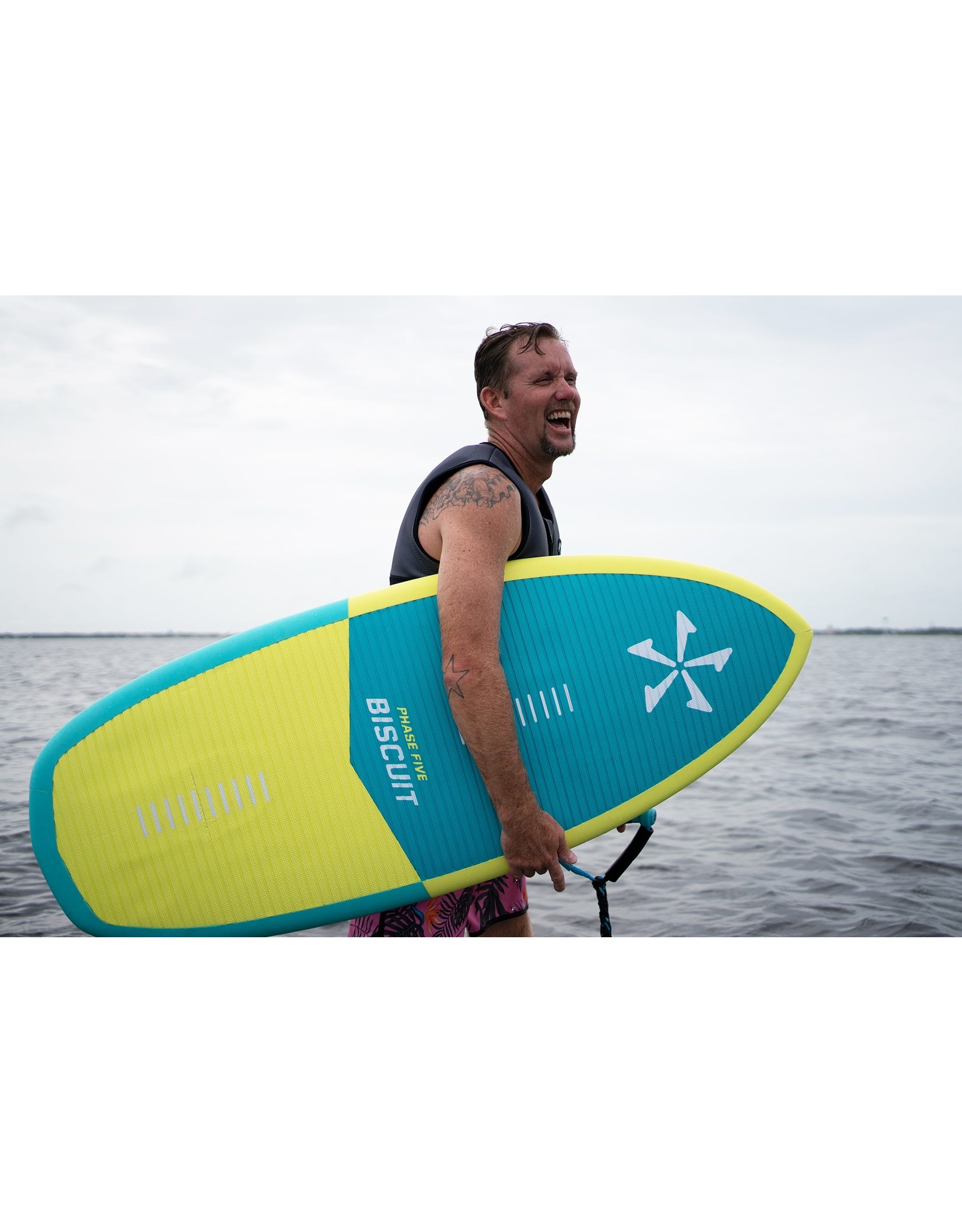 Phase 5 is so much more than a skim surfer
Phase 5 wakesurfers expand across the category of skim style into the surf category. They have a board for every style of riding and every surfer out there. Come and see us at Sun Sports+! Call us at 207-693-2867. Email us at info@sunsportsmaine.com. Like us on Facebook and follow us on Instagram! Check out our YouTube Channel! We want to help you make this summer the best summer ever.