Maine's #1 Wake and Ski Academy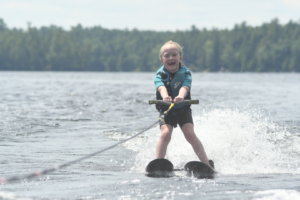 SUN SPORTS+ Experience
Wakeboarding
Wakesurfing
Watersking
Tubing
$180/hour, $600/half day, $1000/full day
All lesson prices include the boat, driver, fuel, and equipment. We DO NOT provide a spotter, which is required. Please bring along someone who can spot for you. Gratuity is not included in the hourly rate.
---
Ride It Before You Buy It Demo Program
For those who are serious about buying equipment, but would like to check it out first. Spend some time with our staff members and select up to three pieces of equipment. We will block an hour of boat time for you. That hour will only cost $30, provided you purchase a piece of equipment. If you decide not to purchase, our regular hourly rate will apply.
Booking our boat for lessons has never been easier. You can try wakeboarding, wakesurfing, waterskiing, kneeboarding, wake skating and tubing when you book the Sun Sports+ Experience.
Call our shop for more information or with any questions 207-693-3867