Cover your Melin this summer with the best hat in the shop. Melin hats are the last hat you'll ever buy. Take our word for it. they are the most comfortable hat out there. Seriously. We carry hydrophobic hats at Sun Sports+, meaning they shed water. So they won't get saturated in sweat or rain or the lakes. These hats are perfect to wear out on the boat, the beach, or while just lounging around. I'm telling you, once you try one on, you'll never own a different hat in your life.
Sizing
Melin hats come in different millimeter diameters because no two heads fit the same. Here's a size chart that you can check out:
Small
Classic
SIZE
7" – 7 ¼"
7 ⅜" – 7 ⅝"
7 ¾" – 8 ¼"
METRIC
56 – 57.5cm
58 – 59.5cm
60 – 62cm
INCHES
22" – 22 ⅝"
22 ¾" – 23 ½"
23 ⅝" – 24 ½"
Our favorite Melin hats are the neon collection. Dive in this summer with the Neon Hydrochromic Collection. Available at Sun Sports+ in Coronado styles, you can bring the party to the beach, the lake, or the backyard pool. With Hydrochromic tech in each hat, hop in the water to reveal hidden custom designs that appear only when the hat is wet and vacation mode is on.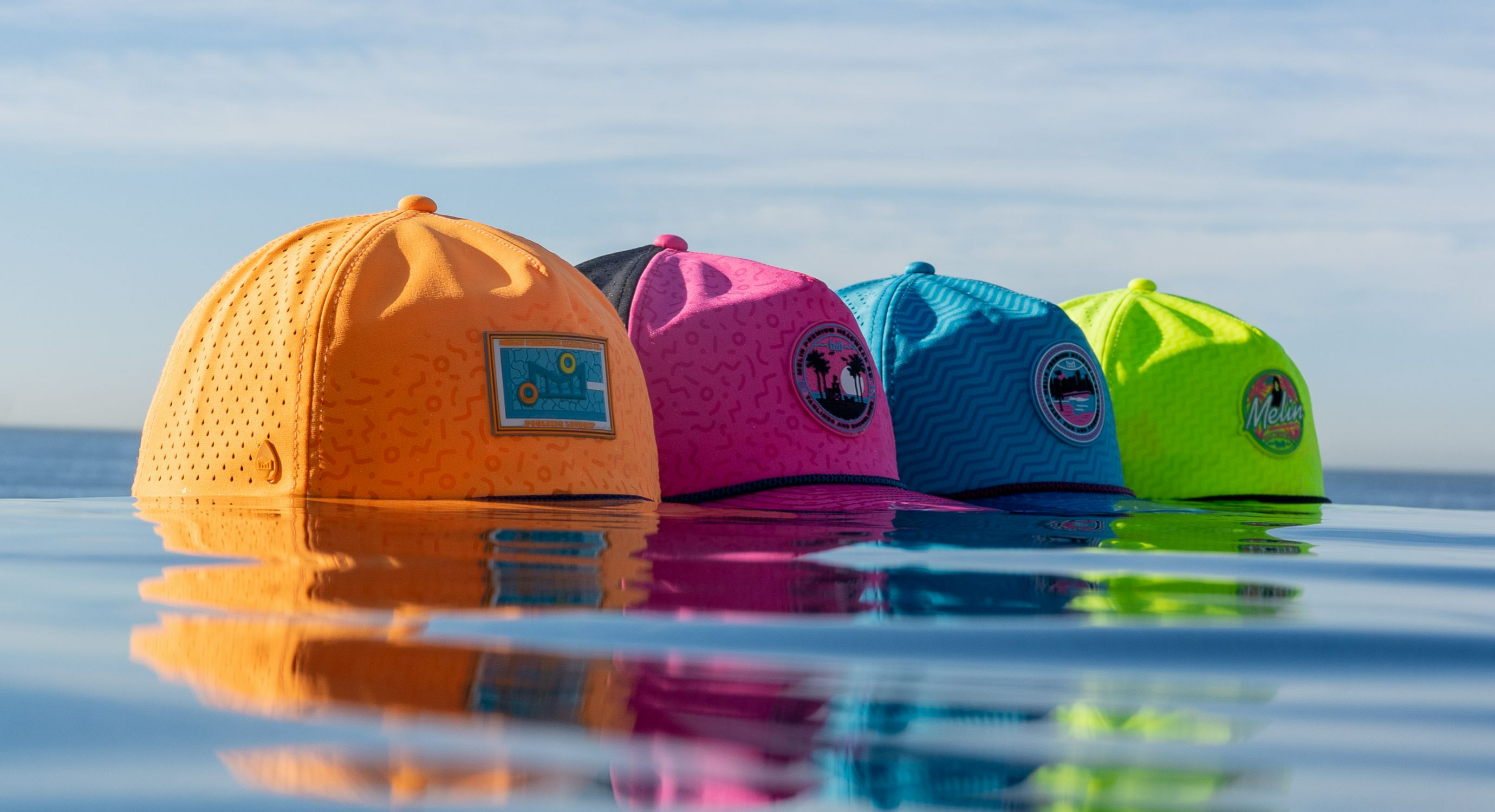 Each Coronado Neon hat features custom, summer-inspired artwork made for heatwaves and good times. With hats made for the water, don't be afraid to dive in and get the party going. Whether you're hopping off the back of the boat to cool off or diving in at the backyard pool party, each hat was made for water with a fun Hydrochromic pattern surprise that only appears by adding some H2O.
TECHNOLOGY & FEATURES
Water Friendly

Floatable

Lightweight

Durable

Antimicrobial

Moisture-Wicking Lining

Hidden Besom Pocket

Breathable

Melin hats have the best features. One cool feature about Melin Hats that we love at Sun Sports+ is that the material is antimicrobial. That means that the hats won't get stinky when you wear them for long periods of time. A second feature we like is they fight breakouts on your forehead because they are breathable. So your skin gets a break from the oils that can build up between the fabric of the hat and your head. The third feature we like is the hats have a logo on the underside of the brim where your thumb goes. This keep from building up a dirty thumbprint on the fabric.

There's more to Melin than meets the eye. A fourth feature is that Melin's snap straps in the back are made out of rubber instead of plastic. They won't break down over time and deteriorate over time. They are also more comfortable and conform to your head much better than typical hat straps. You might not think about the strap on the back of your had. That is, until you put a hat on that has a superior strap.

Check them out at Sun Sports+!

We are open 7 days a week. You can shop Melin online or in store. Have questions? Call us at 207-693-3867. Email us at info@sunsportsmaine.com. Follow us on Instagram and like us on Facebook! Check out our YouTube page! And of course, visit us in the shop.